Swat Valley is a high-altitude tourist destination located in the northwest mountains of the Khyber Pakhtunkhwa province in Pakistan. The Swat Valley is situated on the swat river, at the coordinates of 35°12′N 72°29′E, which is at about 247 Km (153 Miles) distance from the capital city Islamabad in Pakistan.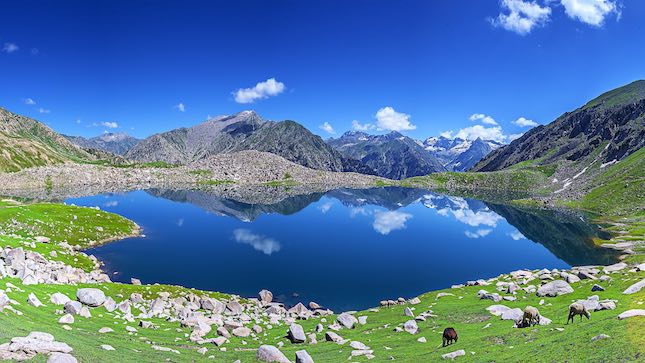 Although swat valley has a reputation for its spectacular natural beauty yet many of its tourist attractions spread across its area of 5,337 km2 (2,061 sq. mi.) are relatively undiscovered.
Until 1969 Swat Valley remained an affluent independent self-governing state called "the Yusafzai State of Swat" before it became a part of Pakistan.
About Swat Valley
| | |
| --- | --- |
| Official Name: SWAT | Official Status: Swat District |
| Tourism Name: Swat Valley | Ancient Name: Udyana / Oddiyana |
| Location: Khyber Pakhtunkhwa, Pakistan | Coordinates: 35°12′N 72°29′E |
| State Era Name: State of Swat | Alias: The Yousafzai State of Swat |
| Independent Ruling: Until 1969 | Merger with Pakistan: July 1969 |
| Nickname (1): Switzerland of the East | Nickname (2): Paradise on the earth |
| Total Area: 5,337 km2 (2,061 sq mi) | Population: (2017 Census): 2,309,570 |
Swat shares borders with Chitral in the northwest, Dir in the west, Malakand in the south, Buner in the southeast. Also Shangla in the east, Kohistan in the northeast, and Gilgit-Baltistan in the north.
The History of Swat
Although Swat is geographically isolated by mountains from the Peshawar plains. The valley has been the main interacting place for the important civilizations of the world. Throughout the swat history, the valley linked China with Central Asia and Europe. Alexander the Great, Mahmood of Ghazni, and Mughal king Babar entered India via the lower part of Swat valley.
Buddhism in Swat
The famous Chinese Buddhist travelers Fa-hsien (403 AD), Sung Yun (519 AD), Hsuan.-tsang (630 AD), came to swat. Also, Wu-kung (752 AD) came to Swat valley from through the present Shangla pass after crossing the Hindukush mountains.
They described swat valley as fertile land, having an abundance, and a variety of produces. Also, they talk about its temperate climate, the beauty of its scenery, and the sacred Buddhist sites when they visited Swat through the difficult passes of Hindukush mountains on their way down to the Indian subcontinent.
In Butkara Swat, near the present Mmgora, under the strata of the Buddhist period, Italian archaeologists found tombs also showing a long occupation of the site. Thus, the scientific analysis of a skull, probably one of the most ancient inhabitants of the valley, indicates a Torwali human type similar to the present inhabitants of the Swat Kohistan.
Asoka issued a large number of edicts inscribed on rock surfaces and converted to the Buddhist religion. During his reign and under his patronage, some of the greatest Buddhist art was produced. Asoka is said to have started the tradition of setting up Stupas to enshrine the relics upon the Buddha and his disciples.
The Archaeology of Swat Vally
The Swat Vally's archaeology is consists of spectacular ancient remains of the valley such as stupas, monasteries, viharas, forts, castles, petroglyphs, carvings, rock inscriptions, painted shelters, and, stele scattered across the swat valley. The archaeological materials excavated from several hundred archaeological sites bear testimony of Swat's cultural relations with the East and West spanning over the 5000 years of its history.
Swat the Switzerland of Asia
The British Queen Elizabeth II during her visit to Swat in 1961 called Swat "Switzerland of the east (Pakistan/Asia)" due to its landscape similarities and alikeness in scenic beauty with Switzerland. Additionally, Swat Valley has pleasant weather and for that reason, locals and tourists call it "a paradise on the earth".
The popularity of Swat Valley
Swat Valley is famous for its natural wonders that include its breathtaking diverse landscape and natural wildlife. Swat has numerous scenic countrysides, lush forests, and impressive high peak mountains. This all provides a suitable natural habitat for wildlife as well as attracts tourists.
Other popular features of swat are; its spectacular freshwater lakes, rivers, springs, waterfalls, and it's pleasant weather. This all collectively makes it a safe haven for tourism in Pakistan.
Tourist activities in summer and winter are also well-known features of swat. Swat in summer is popular for hiking, trekking, camping, ziplining, chairlift/cable car riding, general holiday making, and honeymoon trips.
In winter sports activities in swat make it the most famous and enjoyable tour destination in Pakistan. National and international tourists visit swat valley in winter [2,804 meters (9,199 ft)] to enjoy skiing, ice skating, sledding, ice hockey, bandy, snowboarding, speed skating, curling, etc.
Virtual Tour of Swat Valley
The swat virtual tour is an illustration of information intended for the prospective tourist audience. The purpose of the virtual tour is to provide you information about swat including weather, accommodation, hospitality, famous tourist locations. This guide aims to provide you free and accurate information so that you enjoy your travel and stay safe.
Let's enjoy a free virtual tour of the breathtaking swat valley. We will explore its history, heritage, culture, people, food, and tourist attractions.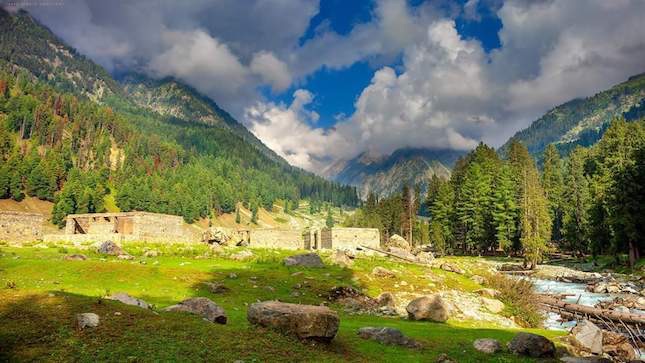 Saidu Sharif (The Capital)
Saidu Sharif served as the political headquarter and administrative capital of the Swat district since the inception of the State and maintained that status till the merger of the State. Being the capital city, Saidu Sharif hosts the swat central government offices, professional educational institutes, healthcare facilities, etc.
The Saidu Sharif Stupa (excavations in 1963 – 1982) is a reminder of Buddhist presence in swat. This is evidence of Buddhist in the swat valley between 25 BCE and the end of the 1st century. Another important tourist attraction in Saidu Sharif is the Swat Museum which displays thousands of objects of the Buddha era as well as historic artifacts of the pre-Buddhist era.
Mingora Bazar (The Business Centre)
Mingora Bazar is the central business hub of swat which is adjacent to Saidu Sharif on 2.6 km (1.6 miles) distance. People around the valley come to the downtown of Mingora bazaar (Market) for shopping and other business activities.
The hustle and bustle of the Mingora market continue until late at night. In the city centre the locals alongside the tourists enjoy shopping and dining until late at night.
Mingora Bazar is a convenient place for tourists to say or get prepare and do the last minute shopping while they are on the move to the more adventurous areas of swat. There are thousands of shops in Mingora city that all day long offer merchandise for sale.
Mingora has a variety of hotels, restaurants, takeaways, cafes, and western food outlets offering both local as well as fast-food.
The District of Swat 
Swat District is one of the seven administrative districts of the Malakand Division. The district and its administrative management fall under the territory of the Government of Khyber Pakhtunkhwa (KP) province of Pakistan.
The administration of the Swat District governs its territory and serves as a capital for the Malakand Division overall. Thus administratively governs all seven districts of Malakand Division i.e. Buner District, Chitral District, Lower Dir District, Upper Dir District, Malakand District, Shangla District, and Swat District.
Swat District has a total of seven subdivisions (aka Tehsils) i.e. Babuzai, Matta, Khwaza Khela, Barikot, Kabal, Charbagh, and Bahrain. Each Tehsil comprises certain numbers of Union councils. There are 65 Union councils in District Swat i.e. 56 rural and 9 urban. Under the new local government system, the District Swat manages 67 wards. This further subdivides to 170 village councils and 44 neighborhood councils.
The Mountain of Swat Valley
Swat is also famous for its majestic mountains located among the foothills of the Hindukush mountain range where you can go hiking, trekking, walking, and even meditating. The elevation of the Swat river valley, at the southern boundaries of the district, is over 600 m and rises rapidly towards the north.
There are several mountain peaks ranging from 4500 to over 6000 m above sea level. The Swat region, containing the meandering Swat River, is also home to lush green valleys, snow-covered glaciers, forests, meadows, and plains. The district has varying geology.
The Lakes of Swat Valley
Swat is blessed with nature's beautiful lakes. Its mesmerizing lakes not only add to the scenic beauty but are also popular attractions among visitors and locals for fishing, hiking, water sports or simply relaxing in the beauty of nature. Lakes in Swat carry a rich history with them, and great tales of myths add to the magic of their landscapes.
The breathtaking views of the beauty of lakes in Swat and it's freshwaters make them a perfect stop. The swat valley has numerous ponds and many majestic large freshwater lakes. The valley has nearly 35 famous lakes, each of them being unique with its lure and sparkling landscapes. These lakes are home to numerous species of plants and wildlife.
The Yousafzai Tribe in Swat
The people of swat are mostly of Pashtun (Pashtun) ethnic group native to Afghanistan. They are the Afghan Yusafzai tribe (Yousafzai tribe), which migrated from Afghanistan five hundred years ago and settled in Swat. For this very reason, the people of Swat have retained their particular tribal culture and characteristics to this day.
The local people of Swat are very friendly, they take great interest in the tourists. You will often find local people holding friendly conversations with tourists. Their love with swat is usually a great topic for the locals to discuss, especially the glory days swat state and related stories told by their grandparents.
As a tourist, you will find it very easy to exchange information with the local people, they are perhaps as much curious about you and your foreign culture as much as you are about swat or it's inhabitants. Pashtun people overall are very honest, straightforward, and outspoken that is why you will mostly find them direct in tone.
The population of swat valley is roughly 2,309,570 according to the most recent census held in 2017, with 90.28% Pashtun and 8.67% Kohistani inhabitants. Based on these numbers population-wise Swat is the 15th biggest district of Pakistan.
Languages Spoken in Swat
The Mother Tongue of Swat is the Pashto which is widely spoken across the valley. Other languages that are widely understood in Swat are Urdu, English, and Persian. As an English speaking tourist, you will always easily find someone local who will communicate with you in the English Language.
Weather & Climate of Swat
The Swat weather actually tends to be quite moderate and changeable but is rarely extremely hot. Despite being a relatively small valley, one of the most surprising things about the Swat climate is just how much it varies from one region to another. You might experience 'four seasons in one day', but travel 20-30 minutes in any direction and the weather is generally completely different!
When it is Spring season in Swat, you can expect average maximum temperatures to range from approximately 7°C (45°F) to 13 °C (55°F) during the months of March, April, and May.
Summer months in Swat i.e. June, July and August are normally the warmest months, with average maximum temperatures ranging from approximately 15°C (59°F) to 17°C (63 °F). In the Autumn (or Fall), Swat is likely to experience temperatures ranging from around 8°C (46°F) to 14°C (57°F) from September to November.
December, January, and February are generally the coldest months in Swat, with the average maximum temperature usually around 5°C (41°F).
Swat's Climate Data for Mingora City (Lower SWAT)
Swat's Climate Data for Kalam Valley (Upper SWAT)

Swat's Climate Data for Saidu Sharif (Lower SWAT)
When is the Best Time to Visit Swat
Considering the 365 days a year, from the mid of March till the end of May is the best time to visit Swat when the weather is mostly mild. From June till the end of August is generally a more suitable time to visit swat when the lower regions of Pakistan are under intense heatwaves and shelter in this refreshingly cool valley is needed the most. The best time for skiing and other winter sports is from December till the end of February when especially the upper regions of swat are under a good snow cover and make it ideal for skiing and winter sports activities.
In conclusion, March to November is a more ideal time to visit swat for family tours with children, school holidays, city breaks, and shot & weekend breaks, etc. December till February is the best time to visit swat valley for winter sports or for winter holidays and adventures.
Customs and Traditions in Swat
Mailmastia (Hospitality) is one of the stronger traditions and is considered a sign of dignity and honor in Swat and across the board in the Pashtun society. The selfish and misers are greatly disliked in the Pashtun traditions.
Apart from providing food and shelter, hospitality also includes the protection of the life, property, and honor of the guest. The people of Swat have a very warm and welcoming attitude towards their personal gusts and general visitors to the valley. Whether you are a special invited guest or visiting swat on your own, you will be obligatorily welcomed, felt safe, and honored by the locals.
The Pashtunwali (Hospitality) is one of the core components of the Pashtun Code. There are many characteristics of Pashtun culture in Swat and a hujra is one of them. From the northwestern mountainous terrains of Pakistan to the heart of Afghanistan to anywhere in the world where Pakhtuns live, there exists the hujra.
Exclusively for the male population, a hujra plays host to various aspects of the social life of Pakhtun society from resolving community disputes to hosting wedding ceremonies. A hujra can be loosely translated as a social club for the locals and can be a place of free accommodation for a stranger visitor. Hospitality is considered the pride of a Pakhtun and this is why everyone in the tribe tries to serve the guests in the hujra.
Hotels in Swat Valley
The options for accommodation in Swat are endless ranging from apartments, lodges, holiday parks, cottages, hostels, hotels, and even paying guest options available to choose from. You'll find both luxury and budget hotels in Swat, all perfect for putting your feet up and enjoying a good night's sleep. Grand country houses, sleek penthouse suites, authentic family-run inns, and pleasant hill resorts are just a few of the hotel types you'll find in Swat Valley.
If you're looking for a home away from home where you can relax in your own space, then self-catering is the way to go! Choosing a bed and breakfast (B&B) is a sure-fire way to meet hosts who are passionate about Swat and willing to go the extra mile to make your break fantastic.
Wake up to a homemade breakfast, get local tips on the best places to go, and enjoy a relaxed stay. Pack a tent, bring your caravan, book a yurt, or hire a campervan and head to a campsite, caravan site, or even into the wild for a Swat adventure.
The Cuisine of Swat
Swat offers a great variety of local traditional food to its inhabitants and visitors. Swat cuisine is covered under Pashtun cuisine which is commonly known as Afghan cuisine. Although swat food remarkably resembles the Afghani, Persian, and Turkish cuisines however it has its own unique taste, aroma, and texture. The food is not spicy hot like Pakistani and Indian food but is rather mild in hotness and intensely enriched using locally grown herbs and mild spices.
Bread and rice being the staple food, swat cuisine is largely based on meat dishes that include lamb, beef, chicken, and freshwater fish as well as locally grown fresh vegetables and fruits. Other food items in swat include dairy products (yogurt, whey, cheeses), swat honey, various nuts, as well as dried fruits.
When you visit swat we recommend you try the taste of mouth-watering Chapli kebab, Kabuli pulao, Tikka kebab, Tikka skewers, Grilled on charcoal, Dum Pukht, and of course the very delicious of swat trout fish. Another recommended food is the signature dish of Swat that you probably can't find elsewhere in the world is called Chukand or Warjalay.
Outdoor Recreation in Swat
Swat has countless suitable places for outdoor recreations such as hiking, camping, road biking, mountain biking, rock climbing, winter sports, fly fishing, hunting, horseback riding, kayaking, rafting, road and trail running, and more. Having both plane and extreme mountainous landscapes swat offers a versatile range of outdoor activities for all group ages.
Whether you want to enjoy your time in the comfort of downtown in Saidu Sharif or in the surroundings of Mingora city, or you want to experience the utmost recreations of upper swat in its great mountains, lush green jungle, waterfalls, and freshwater lakes you will realize that you have chosen the right place.
Camping in Swat Valley
The wide array of free caravan and campsites in swat makes it a perfect fun place for both family breaks and outdoor adventures. Whether you're looking for somewhere packed with on-site activities, an off-the-grid site with a little more peace and quiet, or a camping pod in swat where you can have campfires in the woods – Swat is a safe place to pitch and accommodate your tent in harmony with both people and nature.
Wild camping is a great way to discover the most remote parts of Swat, whilst helping you get away from it all. Although wild camping is legal in Swat Valley, it's important to keep in mind this simple formula:
Respect the countryside + be safe = happy wild camping!
Hiking in Swat
As more and more people embrace hiking, Swat continues to receive an influx of tourists looking to hike its beautiful mountain trails. Swat's long-distance routes provide superb opportunities to get out there on foot to discover and explore some of the best of Swat's landscapes and wildlife.
Hiking and Walking routes in Swat vary greatly in character, from sections of footpaths and walking tracks around the center of the Mingora and Saidu Sharif cities to the rough terrain through the rugged mountains that provide challenging opportunities for the hikers and backpackers.
Backpacking in Swat
Backpacking in swat is a great adventure activity that blends hiking very well with camping in the valley. It lets you broaden your horizons beyond the car campground to enjoy a richer, more immersive outdoor experience. Backpacking Swat is an unforgettable experience, It enables you to visit swat on a low budget although many people will tell you otherwise!
Backpacking is a great exercise for travelers. Combining long hikes with a bit of weight strapped to your back is sure to make you a little faster, stronger, and better than the average traveler. Depending on the environment you are exploring, backpacking in Swat can range from a light trek through the forest to a grueling mountain climb.
Is Swat Safe for Tourists?
Swat is a peaceful safe place for both domestic and foreign tourists. The locals are keen to see foreign visitors as their local economy is mostly dependent on tourism. The people of swat are humble and historically they have a great tendency toward hospitality whether you are a domestic or international tourist.
The local government has invested millions to initiate a new tourism project and to maintain the safety and security situation in swat for both residents and tourists.
How to Visit Swat by Road?
These days getting to swat is easier than ever. Visitors can reach swat mainly through road and by air. Swat Motorway also knew as swat expressway is the easiest option when traveling by road. Swat Motorway links the Valley to Islamabad and Peshawar City.
Islamabad to Swat Travel Distance
The distance between Islamabad and Swat (Mingora) is around 230 km (143 miles). The route between Islamabad and Swat is mostly covered by M1 and M16 motorways with a travel time of roughly 3 hours. Starting from Islamabad via Srinagar Hwy for 22 min (20.7 km). Then follow AH1/M-1 and M-16 to Khyber Pakhtunkhwa for 1 hr 52 min (171 km), and finally follow the Bahrain Rd/N-95 to GT Rd in Mingora, Swat for 1 hr 2 min (38.9 km).
An alternative option when traveling Swat from Peshawar by road is the National Highway (45). The travel distance between Swat and Peshawar is around 157 Km (97 Miles) which takes between 4 to 5 hours.
Swat Distance
Swat Valley Distance Summary Table
City or Place name
Distance
Travel Time
Transportation
Motorway/ Route
Islamabad to Swat

230 km (143 miles)

3 hours +

Car/ Public Transport

AH1/M-1 and M-16

Peshawar to Swat

292 km (120 miles)

2 hr 50 min

Car/ Public Transport

M-1 and M-16

Lahore to Swat

564 km (350 miles)

6 hr 50 min

Car/ Public Transport

M-2, M1, and M-16

Karachi to Swat

1,598 km (993 miles)

18 hr 45 min

Car/ Public Transport

M9, N55, M5, M4, M2, M16
How to Visit Swat By Air?
When visiting the swat valley by air, visitors are informed that the swat airport also known as Saidu Sharif Airport is currently closed for refurbishing work. Swat airport will be reopened for visitors in 2021. When reopened, Saidu Sharif Airport will cater flights from Swat to Islamabad, Peshawar, and, Chitral Valley airports.
Bahrain in Swat
Bahrain is a beautiful town and a famous tourist attraction located on the bank of the swat river. The charming town of Bahrain which is also called Bahrain Valley is 59 km (36 miles) away towards north on N95 from the main city center Mingora. Bahrain itself is a great destination to visit yet, many of the tourists tend to stop for short and long stays in this town when they are traveling towards upper swat i.e. Kalam, Gabral, and beyond.
The town has sufficient amenities including shops, restaurants, cafes, hotels, etc. Tourists usually find it a comfortable place to take a break or stay in Bahrain for a few days to enjoy its pleasing landscape and lovely weather.
Bahrain town is the exact confluence of the Daral and Swat rivers that makes it an attractive place to enjoy your meal, cup of coffee, or tea. The surrounding villages in Bahrain provide a perfect opportunity for tourists to see and experience human life in an ideal natural world. Bahrain is on commutable distance from other tourist destinations in Swat such as Madyan, Daral & Saidgai lakes, therefore, it also serves as a base camp for the trail that leads to these locations.
The temperate and climate of Bahrain is generally considered mild. The average temperature in Bahrain is 16.6 °C (61.88 °F) where July is the hottest month of the year with an average temperature of 27.0 °C (80.6 °F). The coldest month of January has an average temperature of 4.8 °C (40.64 °F). Snowfall in Bahrain usually occurs a couple of times in the year, the most expected months are December, January, and February.
Tourism in Bahrain continues throughout the year, yet the hottest months i.e. May, Jun, July, and August bring more traction. The annual precipitation averages 866 mm (34.1 in), November is the driest month with 21 mm (0.8 in) of precipitation, while March, the wettest month, has an average precipitation of 120 mm (4.7 in).
Madyan in Swat Valley
Madyan is another beautiful hill station and tourist destination in the upper region of Swat. Madyan is around 51 km (31miles) away from Mingora city and about 45 km (27miles) from Kalam valley. The Madyan Valley stands high at the elevation of 1,320 m (4,330 ft) on the bank of the swat river with attractive surroundings and humble people. Hundreds of thousands of tourists visit Madyan every year to enjoy its inviting natural beauty and to spend some joyful time in its modest weather.
Being a middle spot between Mingora and Kalam, Madyan makes it a perfect place for a break when you are traveling upwards in swat. The breathtaking views of this place are surrounded by the lush green mountains which in winter fill up with snow completely bring a completely different experience. The downtown of Madyan is not as big as Bahrain yet it offers sufficient amenities including shops, restaurants, cafes, hotels, etc.
Kalam Valley in Swat
Kalam which is also known is Kalam Valley is a sub valley of Swat located at an elevation of about 2,000 meters (6,600 feet) above sea level. Kalam is on a distance of 96km (59 miles) of distance from Mingora city which accessible through the route N95 upwards north. Kalam is one of the major tourist locations in Swat which has plenty of attractions and activities for tourists to get engage and enjoy their time.
The spectacular downtown of Kalam Valley is situated on the bank of the swat river which serves as a marketplace where goods and services are exchanged or sold. As a tourist, you get good benefits from Kalam's downtown as it offers sufficient amenities including shops, restaurants, cafes, hotels, etc.
A quick point to remember here is that in the high season in swat when tourism is on its peak in Swat, especially in the summer month of i.e. June, July, and August Kalam gets crowded and all hotels are completely occupied. Therefore the best thing to do before you come and intend to stay in Kalam in the busy season is to book your hotel in advance otherwise you will end up in a tent or a camp unless you are willing to travel back to the mainland of Swat.
When you visit Kalam soon you will find out that your day gets busy even you are in a calm haven. Your excitement of seeing natural wonders will take you to many places in Kalam. If you are like rivers, springs, gladiolus, big beautiful lakes, and waterfalls, or you just like to be surrounded by freshwater then you will easily settle down in Kalam. If you are into lush green forests, have a love for beautiful and unique trees and plants and you have a desire to see high peak mountains, and enjoy going hiking then the land of Kalam Vally is all yours.
Many tourists go to Kalam to experience a memorable time in a camp or a private tent with friends and family. In summer the bank of the swat river in Kalam becomes a tent and camping ground for tourists. It might sound crowded but you get the opportunity to meet locals and other tourists and enjoy local food with others, also the camping ground in Kalam becomes a place of bonfire, BBQ, music, and dance as the night falls.
One special activity that happens in Kalam every year is the Kalam festival. This activity is also known as kalam Mela or Swat Summer festival which is a cultural and recreational event, held every year in the month of July or August. This even, in particular, attract a large number of tourist to Kalam to enjoy both the Meala and the pleasant weather of Kalam when the weather in other parts of Pakistan is hot.
In addition to the National Park of Kalam (The Greate Forest of Kalam) and the famous Kalam Forest PlayGround, other popular places and tourist destinations near Kalam in Swat are Matiltan, Utror, Gabral, etc which we will also visit in this virtual guide. Remarkable Lakes in Kalam are Mahodand Lake, Kundol Lake, and Izmis Lake.
Malam Jabba in Swat
Malam Jabba is located 45 km (28 miles) to the northeast of Mingora in Swat valley at an elevation of 2,804 meters (9,199 ft). Malam Jabba is a beautiful hill station, an attractive tourist destination, and home to the very popular Malam Jabba ski resort in Swat. In summer hundreds of thousands of tourists come to Malam Jabba to enjoy and to take an elevated fun ride on the chairlift/cable car to see places otherwise would be difficult to go to.
Also, tourists in summer come to Malam Jabba to get an escape from the city heat waves and enjoy time with family and friends. Many visitors are simply interested in enjoying the natural beauty of this place that includes gigantic mountains, large thick glaciers, dense forests, wonderful landscapes, and pleasant weather.
Winter Sports in Swat
Swat's passion for snow sports makes it a superb winter holiday destination. The Malam Jabba Ski Resort in the Hindu Kush mountain range has all that a sportsperson would like to climb or travel at the elevation of 2,804 meters (9,199 ft) for perfect winter sports. The beautiful Malam Jabba Ski Resort is nearly 48 Km (29 miles) to the east of Saidu Sharif Swat and about 275 km (170 miles) to the northwest of Islamabad. The Ski Resort has two 800 meter ski runs, Ice skating rink, and adequate accommodation facilities for visitors.
Did you know Swat's ski resort at Malam Jabba is the largest and second to none in Pakistan offering the best outdoor skiing and snowboarding? If you have not tried skiing before, it will be your lifetime experience at a high altitude here in Malam Jabba resort.
If you are new to ski, don't worry here in Malam Jabba ski resort you will find yourself among other beginners taking practical classes on how to ski. Soon you will realize that it doesn't take long to learn skiing, the catch is to be in Malam Jabba resort at the right time of the year so that the professional instructors can help you learn to ski in the most favorable weather conditions.
Not to mention your ski learning experience at Malam Jabba resort will be full of character, surrounded by breathtaking scenery, and connected to some of the world's most famous mountains.
Right in the backyard of the Malam Jabba Ski Resort, tourists also enjoy ice skating, sledding, ice hockey, bandy, snowboarding, speed skating, and curling, which you might consider when you visit swat. All health and safety gears and the equipment that is necessary for playing skiing and other winter sports are available there at a minimum price.
Tourists can bring their own skis, ski boots, ski bindings, ski poles, ski wear, ski helmets, and snowboard and ski goggles, or they can just rent them there and focus on their game and tour.
Gabin Jabba in Swat
Gabin Jabba is another fantastic place and a great tourist destination in Swat which is located approximately 58 km (36 miles) of travel to the north direction from Mingora. Gabin Jabba is a Pashto word and its literal meaning in the English language is "Honey Marshes".
Although the beauty and sweetness of this tourist spot attract tourists like a beehive attracts honey bees in wild yet don't confuse this place with swat honey. Another trick about Gabin Jabba that you need to understand is if you are thinking of visiting it, is that Gabin Jabba and Malam Jabba are two different tourist places in Swat. Both tourist heavens are on 74 km (45 Miles) of travel from each other.
Tourists travel to Gabin Jabba at an elevation is 2582m (8471ft) from the sea level to see and get closer to nature. the green meadows, thick forests, snow-clad mountains, mineral springs, and high peaks are amount few things that tourists love to experience in Gabin Jabba.
In addition to natural beautiful wonders and soothing weather in summer, Gabin Jabba is also famous as the garden of medicinal plants in this region. Having said that, the locally grown produces of Gabin Jabba and its freshwater trout fish farm attracts visitors for its great taste and health-related benefits. Not to mention the wild pure and natural honey is a great gift from Gabin Jabba that you might consider tasting and taking it for loved ones.
Instead of staying in a hotel, the beautiful Camping Pods in Swat Gabin Jabba provides an ideal economical accommodation option for tourists. Gabin Jabba is also a safe place for camps and tents as long as the weather is favorable and you have brought your own camping gear with you. Other options of more convenient, contemporary, or formal hotel-style accommodation in Malam Jabba is to stay at the Gabin Jabba Hotel and Resort.
The Marghazar White Palace in Swat
Marghazar is home to the iconic Marghazar White Palace the heritage of the State of Swat. Marghazar and it's famous Marghazar White Palace is approximately 12 km (7.5 miles) of travel from Saidu Sharif. The Marghazar White Palace was built by Wali of Swat (The King of the Swat State) in 1941.
The King brought marble from Agra, bronze from Belgium, and artisans from Turkey who designed and constructed the palace. This palace made of white marble was used as the summer residence by the King and the royal family. Also during the Swat State era, this attractive place served as a royal guesthouse hosting the great leaders and rulers from around the world.
In 1961 the Queen Elizabeth II of the United Kingdom visited the State of Swat and was honored to stay in the White Palace at Marghazar. During her state visit, Queen Elizabeth II fall in love with the beauty of Swat Valley and called it the Switzerland of the East.
The literal meaning Marghazar in the English language is of pasture or meadow. The more elaborate definition of Marghazar is a beautiful lush green place or a place abounding in verdure and nature. The definition of Marghazar alone unfolds the hidden myths of this wonderful place.
Its superb weather and fascinating landscape, for example, the enchanting waterfalls, majestic mountains, natural atmosphere, and the royal comfortable hotel at Marghazar White Palace explains that it is one of the best tourist destinations in Swat.
The White Palace is now known as the Marghazar White Palace Hotel as it serves as fantastic accommodation for the general public. It is, of course, a luxurious treat to stay and spend a memorable time whether summer or winter holidays or honeymoon in this historic royal palace surrounded by the utmost natural beauty of Swat.
The nearest village and other remarkable places near or in the region of Marghazar are Spal Bandai, Chitor Maira, Ghara Chitor, Chitor Pol Kaly, Kokrai, Jaba Islampur, and Islampur.